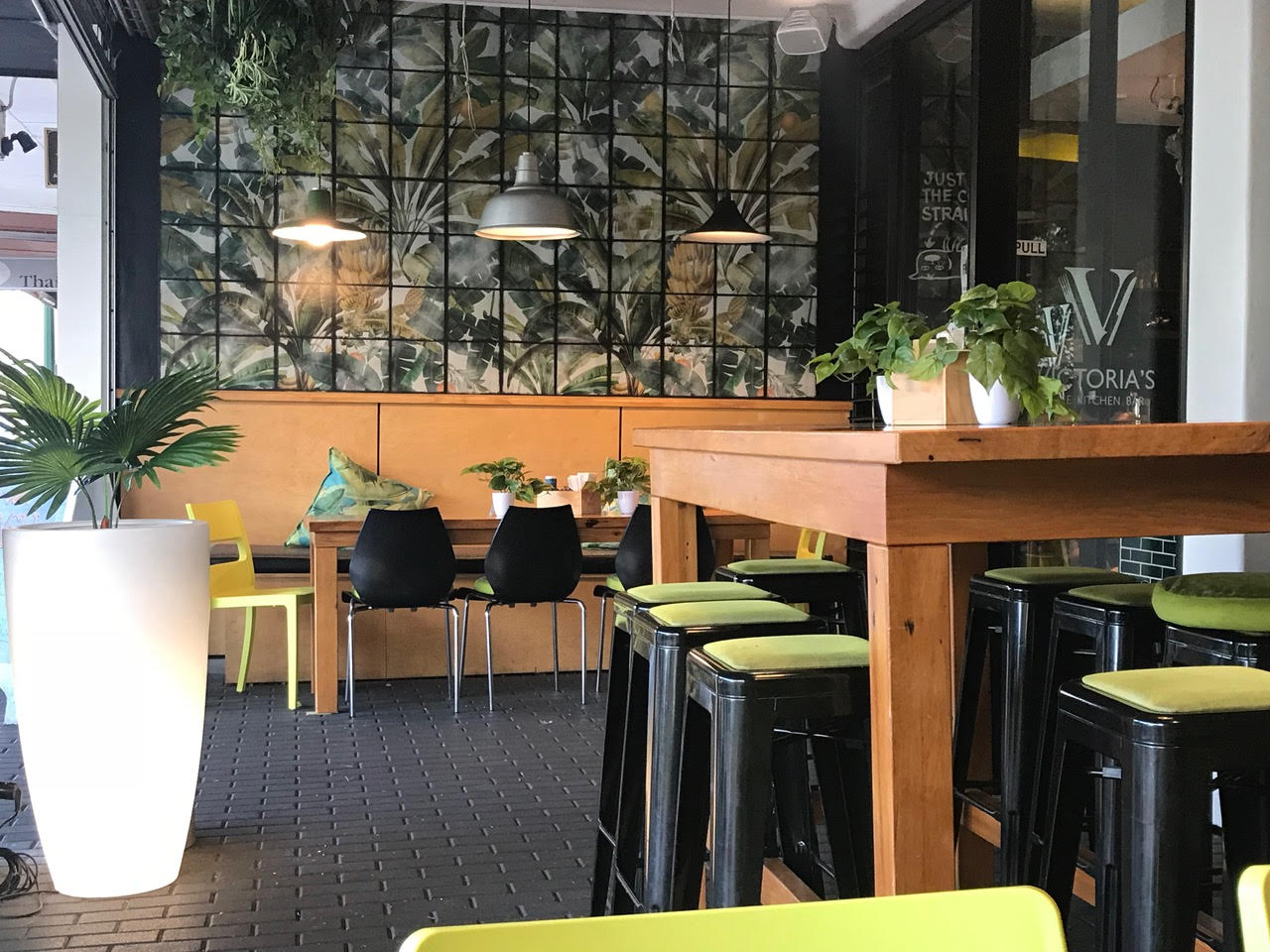 Life is Good
@VictoriasTaupo
Great coffee, fresh food made with love, funky eclectic interior & friendly atmosphere…
Life is Good
Join us a Victorias. Open daily for good, honest, seasonal food & consistently excellent coffee. The kitchen team have created an all day breakfast/brunch and lunch menu - the old favourites are there, joined by a full menu of yumminess custom designed by our fabulous Chef Paul Kepa.
If you are pushed for time or just need a quick fix, there will be something to grab and go from our ever popular cabinet which caters for both gluten free and vegan. A generous selection of savoury and tasty offerings including a variety of healthy and beautiful sweet treats is available all day. As is our freshly roasted, passionately made coffee; as if we could forget about that!
Our focus is on good, honest, homegrown & seasonal food providing exceptional value & taste. Our suppliers are local - we shop local, we stay local. The food is matched with an extensive drinks list of not only our coffees and selection of non-alcholic drinks but also a great range of both New Zealand & international wine, beer & cider.

Whatever your appetite, lifestyle or dietary needs, we have something delicious and nutritious to suit.
Phone
07 376 7310
EMAIL
Location
127 Tongariro Street
Taupo, NZ
Hours
Mon-Fri 730am–330pm
Sat-Sun 830am–300pm
Gluten Free Breakfast / Brunch
Gluten Free Toast - V
with homemade preserves & cream cheese or butter
$8
Bacon and Free Range Eggs
on toasted GF DF bread
TWEAK IT
$15

The Works
free range eggs, bacon, tomato, potato cake, goat cheese, mushrooms, relish & GF DF toast
$23
Free Range Eggs
on toasted GF DF bread
TWEAK IT
$11
Eggs Benedict
poached eggs on potato cakes with wilted spinach & hollandaise
$17 Add Bacon $4 or Salmon $8

Mushroom Magic - V
on toasted GF DF bread with broccolini, free range poached egg, goat cheese, truffle oil & parmesan
$20
Kumara & Maple Granola - V
with greek yoghurt, plums, dehydrated mandarins & almond milk
$15
Free Range Omelette - V
filled with mushroom, tomato, capsicum, spinach & lemon oil served with GF DF toast
$20
Awesome Chicken Salad - V
roasted beetroot, carrots, candied walnuts, quinoa, pomegranate seeds, salad greens, lemon dressing
$16
add 1/2 chicken breast $4
add whole chicken breast $8
Beef Short Rib
succulent beef on the bone with parsnip puree, pomegranate seeds and a red wine jus
$26
Lamb Rump
tender & delicious on a kumara gratin with baba ganoush, tomato, citrus & chives
$26
TWEAK IT
tomato $3 mushroom $5 bacon $5 egg $3 sausage (x2) $6
extra GF toast (x2) $4 smoked salmon $8 chicken breast 1/2 $4 whole $8
Our Team
Victoria's is run by husband & wife team Victoria Taylor & Grant Yates. They are passionate about people and have built a team of equally dedicated and passionate people to provide a great & consistent service. Their mission is to provide an experience people want to repeat.
Follow Us, We're on Instagram @victoriastaupo
Your Next Function at Victorias
The evenings at Victorias are available for events and functions!
Think family reunions, birthdays, wedding receptions. Christmas party at an offsite venue? Need catering?
You name it, we can do it!
Get in touch with us, we'd love to hear from you.